Bring down the Big 6! Fuel Poverty Kills!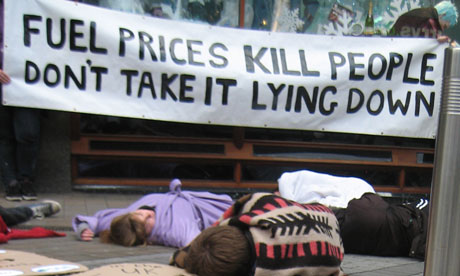 Join Fuel Poverty Action, UK Uncut, Greater London Pensioners' Association and Disabled People Against Cuts for an audacious, creative and inclusive protest against fuel poverty deaths on
November 26th at 11.30am in Central London.
Meeting point: Royal Exchange by Bank underground station.

On November 26th, the number of people who died last winter because they couldn't afford to heat their homes will be announced. It is an outrage and a disgrace that anyone in 21st century Britain could die from fuel poverty.
We won't stand for any more unnecessary deaths caused by price-hiking, planet-ruining, profit-munching, tax-avoiding energy companies. So join us as we take to the streets in Central London to target one of the main criminals of the energy industry.
As the Big Six energy companies hike up prices we are told the only answer is to put on a jumper. As millions will be forced to live in fuel poverty this winter, families will have to choose between heating or eating.
But we know what we want- we want warm pensioners and a publicly-owned, tax paying, renewable energy system that isn't wrecking peoples lives or our planet.
So join the fight back and reclaim the power. Gather your kids, neighbours, grandparents your warmest jumper and your latest energy bill.
See you on the streets.
Sign up for the event here… https://www.facebook.com/events/364663353679232/
Keep up to date with the latest on the action, including the secret location by following @fuelpovaction // @ukuncut // @Dis_PPL_Protest.
And if you're a grassroots organisation and would like to add your name in support of the action please email: infofuelpovertyaction.org.uk.