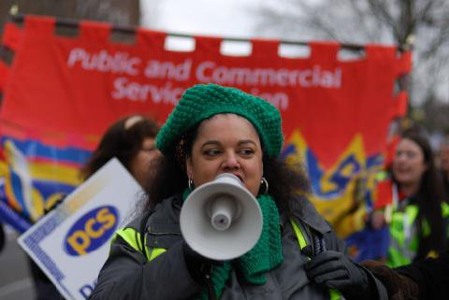 At this time of flag-waving, when the government hopes the upcoming Jubilee and Olympics will create a 'feel-good-factor' to hide the devastating impact of their unfair and unnecessary cuts programme, we must question and debate what this country is really about and what we, as a society, with progressive, democratic values, want it to be. This is the first in a series of blogs published this week on why we must take action now to fight against the cuts.
The Jubilee is a celebration by the rich for the rich- we should instead celebrate a multicultural Britain and stand up against the cuts by Zita Holbourne, Black Activists Rising Against Cuts
When the Royal Wedding took place last year, it was estimated that it cost the economy £5 billion with an estimated £20 million of taxpayer's money spent on security alone. The Royal Wedding offered nothing for ordinary working class people apart from the local authority grants for street parties. These were offered at the same time that funding for much needed services, that communities rely on, was being cut by the same local authorities. Anybody that dared to express a dissenting view publicly was promptly removed by police.
The 'pomp and glory' of the Queen's Jubilee will offer much the same as the Royal Wedding – a celebration by the rich, for the rich- while the royal family for me is a symbol of the legacy of enslavement (from the Transatlantic Slave Trade) and Empire. This symbol does little to encourage me to participate or indeed feel welcomed to participate in the celebrations.
Whenever I see the British flag waving I immediately think of the BNP who have incorporated it into their logo, while fascists have also selected St George's Day as a key date for parading their hatred. I have to laugh when I see that because it would seem that the racists and fascists couldn't be bothered to look into St George's ethnicity and heritage. But on a serious note, I think we need to reclaim both the British flag and St George's day because neither should be a symbol of racism in the UK.
David Cameron has declared that multiculturalism has failed and is dead- what does that say for the multicultural communities that make up our society? Does this failure apply to the old British cultural tradition of a street party bringing neighbours together to celebrate?
There's little to celebrate for the vast majority of working class people in the UK today – frozen pay, job cuts, having to work longer to receive our pensions whilst paying more in and getting less out, young people cannot afford an education and over a million of them cannot get work, the welfare state is under attack and facilities we might have once enjoyed in our communities have been cut.
So why not use the street parties as a coming together of minds and hearts and use the opportunity to mobilise and build campaigns to defend our multicultural societies, stand up against the discrimination of cuts impacting on black communities, women, disabled people, young people, children and the elderly in a show of strength and unity.
We support UK Uncut's Great British Street Party for public services, rights and a welfare system.
…
BARAC together with other organisations including trade unions will be organising a public meeting to coincide with the opening of the Olympics on the theme of global human rights. To get updates on this please join our email list: barac.info@gmail.com.
You can also connect with us via our website, www.blackactivistsrisingagainstcuts.blogspot.com facebook 'black activists rising against cuts' and twitter BARACUK.