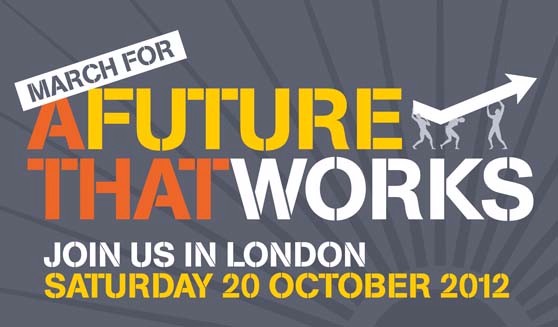 Join UK Uncut on the 'No cuts, no tax-dodging' bloc at the Trade Union Congress (TUC) march, Saturday 20th October in London!
Absolutely fed-up with how Cameron, Clegg, Osborne, Hunt and the rest of this cabinet of millionaires are wrecking our future?
Angry at how big business gets away with murder, whether it's avoiding billions in tax or getting massive public bailouts?
Ready to make some noise, meet new people and have a fun time with a few surprises on the way?
Then you and your friends should join UK Uncut's 'No cuts, no tax-dodging' bloc on October 20th!
Stories continue to emerge of how big businesses such as Facebook, Apple, Starbucks and Google continue to avoid billions in tax at a time of unprecedented and unnecessary public spending cuts. We must keep the pressure up so that the government cracks down on tax avoidance and ends its disastrous austerity policies.
If you'd like to join us then meet us outside St Paul's cathedral at 11am before the march. We'll be hanging out with the Climate Bloc who have organised a short event including talks and performances.
We'll have flags and banners and will be handing out information about our exciting new national day of action taking place in December. We've got some seriously great plans brewing that are going to be revealed soon, so now is the time to start making new friends and allies to get ideas and inspiration!
If you haven't already, then sign up to follow us on Twitter and Facebook as we'll be making announcements on the day. There may even be one or two surprises along the way…
Remember to sign up for the event on Facebook too (…yes, even though they avoid tax!).
See you on the streets!